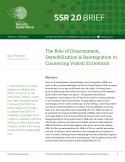 The Centre for Security Governance (CSG) has just published its third SSR 2.0 Brief. This brief, written by Dean Piedmont, director for the Peacebuilding, Reintegration and Stabilization Group, examines the DDR-CVE nexus. As this brief shows, there is a need for a new, innovative policy framework for DDR that better equips the concept to address the DDR-CVE challenge. A paradigm shift in policy is needed to reframe DDR as a conflict-prevention measure, rather than merely a post-conflict peacebuilding tool.
This SSR 2.0 Brief can be accessed here. 
This article also appears on the Peacebuilding, Reintegration and Stabilization Group (PRSG) website.  The PRSG is dedicated to exploring innovative issues related to reintegration, DDR and livelihood policy development, research and programing in complex environments.  In additions to publications, PRSG runs a blog series for policy makers, academics and practitioners to share their experiences and provide practical applications to addressing peace operations in the field.
Tags: CVE, DDR, publications, SSR, SSR 2.0 Brief