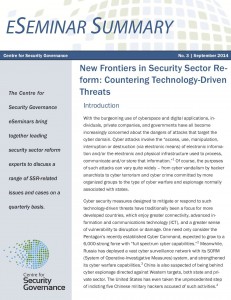 The Centre for Security Governance has just published eSeminar Summary No. 3 on "New Frontiers in Security Sector Reform: Countering Technology-Driven Threats," following its eSeminar event that took place on July 17, 2014.
This short report summarizes the presentations of all three panellists, synthesizes their main conclusions, and explores some of the issues discussed during the event.
The eSeminar Summary can be accessed here.
Tags: cyber security, eSeminar, SSR