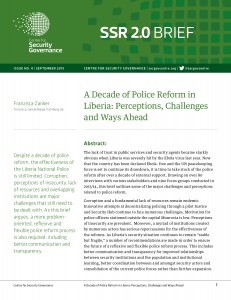 The Centre for Security Governance has just published its latest SSR 2.0. Brief, "A Decade of Police Reform in Liberia: Perceptions, Challenges and Ways Ahead", written by Franzisca Zanker.
Despite a decade of police reform, the effectiveness of the Liberia National Police is still limited. Corruption, perceptions of insecurity, lack of resources and overlapping institutions are major challenges that still need to be dealt with. This brief analyzes the main challenges of post-conflict police reform in Liberia and provides useful policy recommendations to improve this process. As this brief argues, a more problem-oriented, reflexive and flexible police reform process is required, including better communication and transparency.

About the SSR 2.0. Briefs
These short peer-reviewed briefs present forward-looking, policy-oriented analysis and recommendations on pressing SSR and related issues. They cater to a wide audience, including policy-makers, practitioners, researchers, academics and general observers. The SSR 2.0 Briefs series explores the ongoing evolution of the security sector reform concept, featuring concise critical commentary on key SSR themes, issues and cases. In line with the series' name, SSR 2.0 Briefs are designed to advance 2nd Generation approaches to SSR that seek to overcome the challenges and deficiencies of more orthodox SSR. The series adopts a wide definition of SSR, encompassing conventional security institutions, rule of law structures, legislative and executive government bodies, non-state security and justice actors, and civil society, among others.
To read this SSR 2.0 Brief, click here.
Tags: Liberia, Police Reform, publications